Prompts for Sketch 1
The task for your first sketch is to engage with one of the pictures or pages of any of the following three inspirational masterworks of Bauhaus line-drawing pedagogy: Pedagogical Sketchbook, Paul Klee, The Thinking Eye / The Paul Klee Notebooks Vol 1, Paul Klee or Point and Line to Plane, Wassily Kandinsky. A great many of these pages (especially in the Klee) could serve as a call to action. Your sketch should be executed in code. The goal of this exercise is to have you experience crossing the threshold of the unexpected while building computation.
This will likely proceed as follows:
having a idea (based on a page),
figuring out how you might tell the computer what that idea is,
incrementally expressing that idea and refining it,
getting lost,
finding the moment when something unexpected, unforeseen and perhaps unforeseeable occurs.
At this point, you can play freely with your system's parameters, and sketch the potential of the system that you have built.
There is some flexibility as to how you evidence this passage: I recommend screenshots, notes and, ultimately, handing some code in for us to look at together in class. This is an experimental class about experimental art — there are marks for effort, reflection, growth and being the first to report problems.
This sketch is due Sunday (Jan 21) evening, although I recommend getting over any boring technical problems well in advance of that.
The examples below (which can be downloaded into Field from its current welcome screen) should be useful both to get you started and to serve as a kind of documentation of sorts for Field's 2d drawing system. Logan 003 will be ours on Friday mornings, there are office hours on Wednesday mornings, and, finally, there's always my email address: marcdownie@uchicago.edu.
"An active line on a walk…"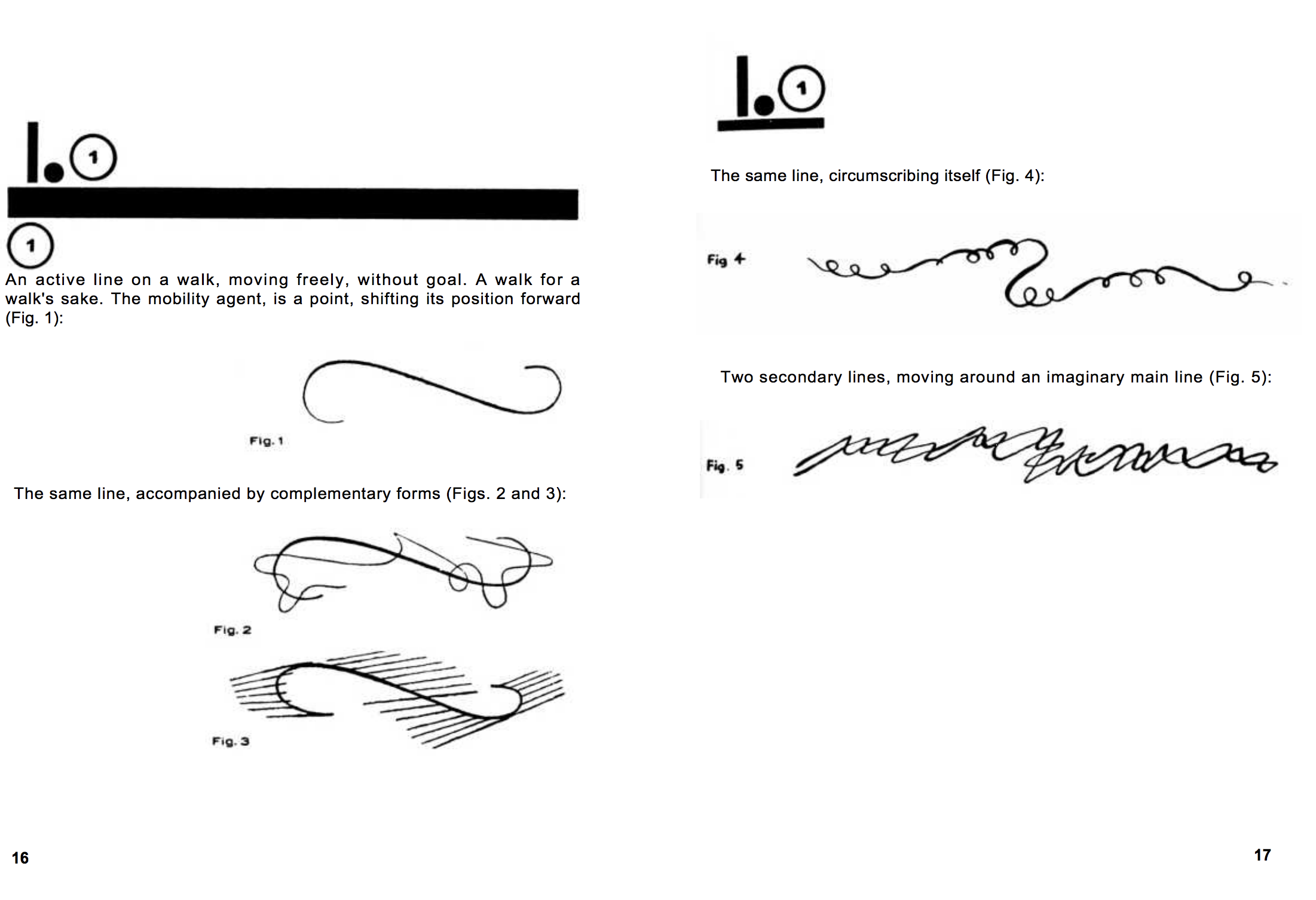 Pedagogical Sketchbook, Paul Klee, pg. 16
Some points of departure
Other modulation shapes
Other ways of thickening
Other versions of 'hair'
Scale 'direction' by something gestural
Turn this into an animation with _.wait() and _.redraw()
See if you can build pg. 18, figure 6 with a similar approach
"exotropic treatment"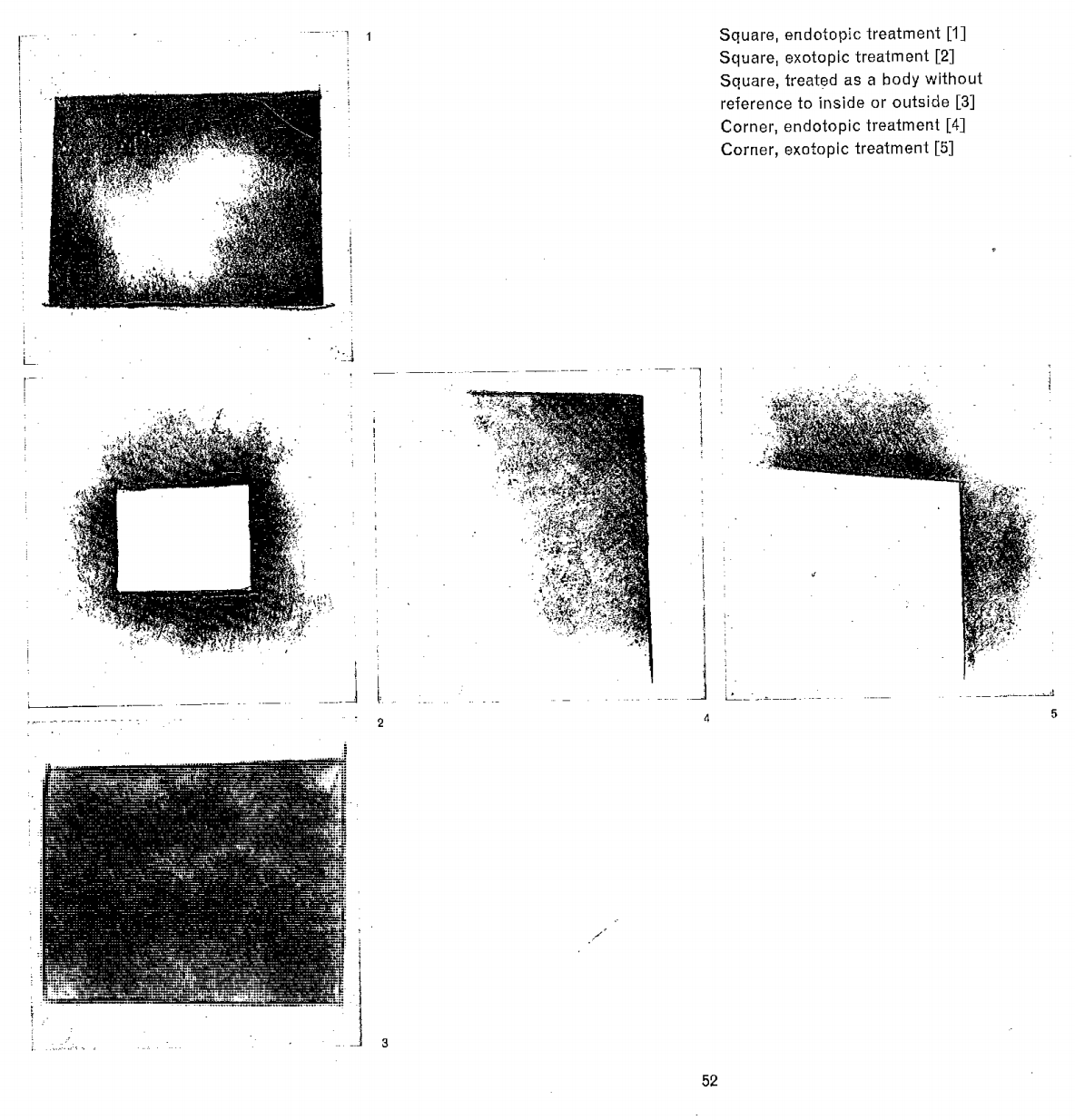 The Thinking Eye, Paul Klee, pg. 52
Some points of departure
Endotropic – turn this code into something that points inwards rather than outwards.
Shape – try a different control shape.
Process – edit this code so that it draws the process as it unfolds (use _.wait() and _.redraw()).
Noise – modify the distribution of noise along the line.
"…the pull from outside in"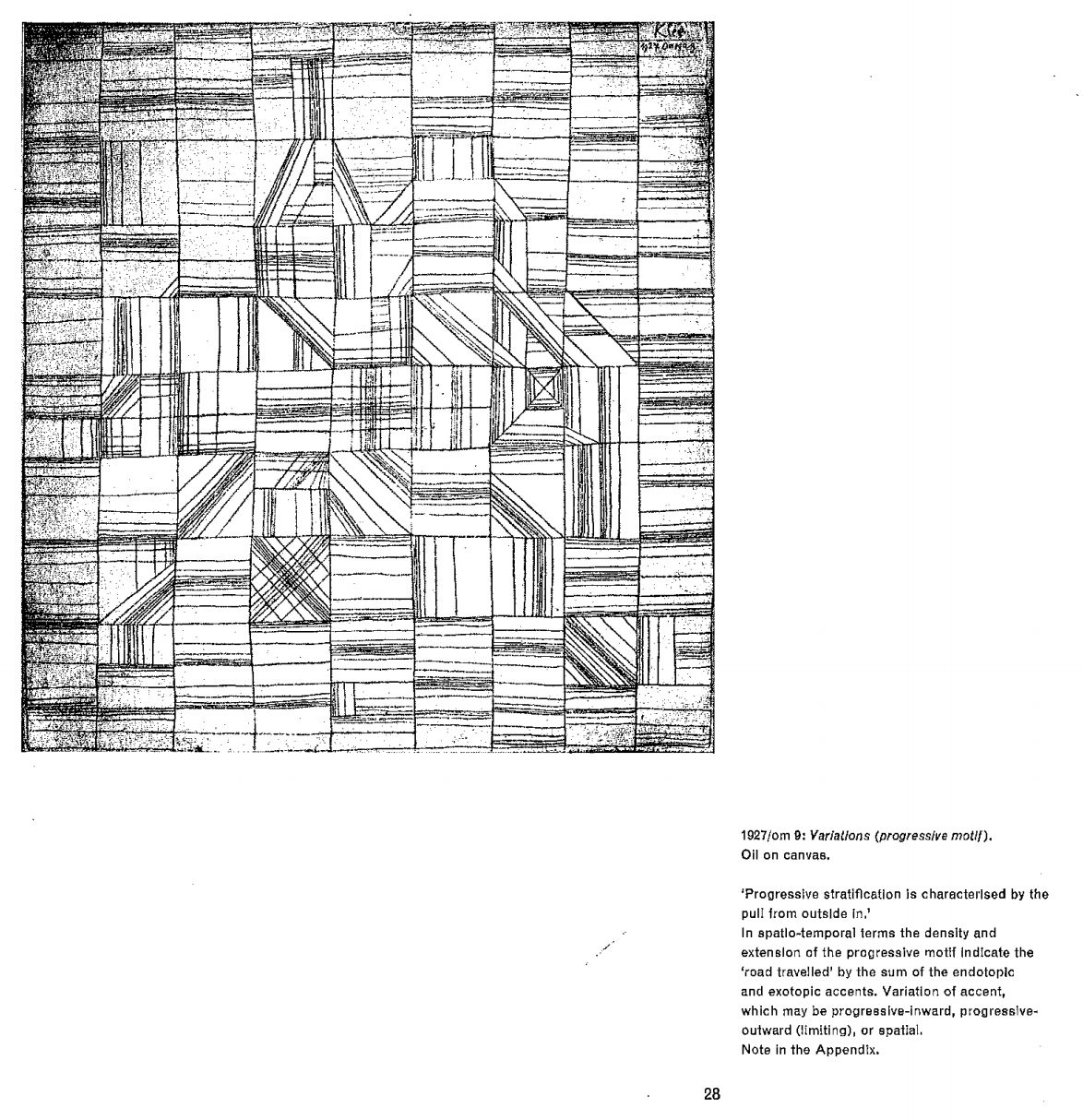 The Thinking Eye, Paul Klee, pg. 28 (but see also pg. 48)
Some points of departure
Constrain — the angles differently, right now there are random?

Distribute — modify the distribution of over-strokes.

Animate — Build a drawing animation with _.redraw() and _.wait()

Disorder — Do something other than a grid.
"…progressively spatial…"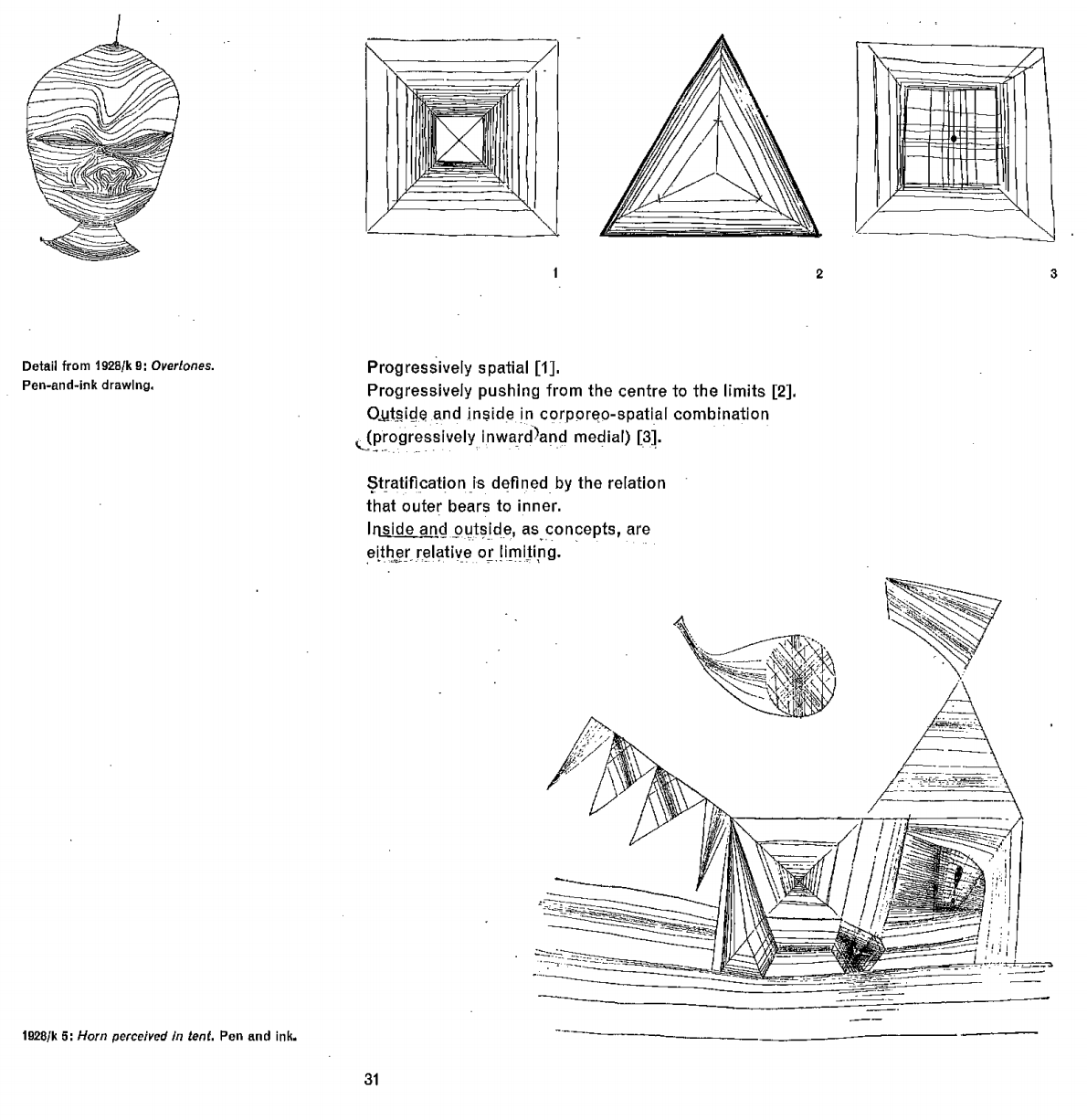 The Thinking Eye, Paul Klee, pg. 31
Some points of departure
shape — try a different input shape
randomize — every 'Math.random()' marks a random distribution that might be worth manipulating
decorate — the tours further: build a reason to 'curveTo' rather than 'lineTo'
animate — turn this into an animation with _.wait() and _.redraw()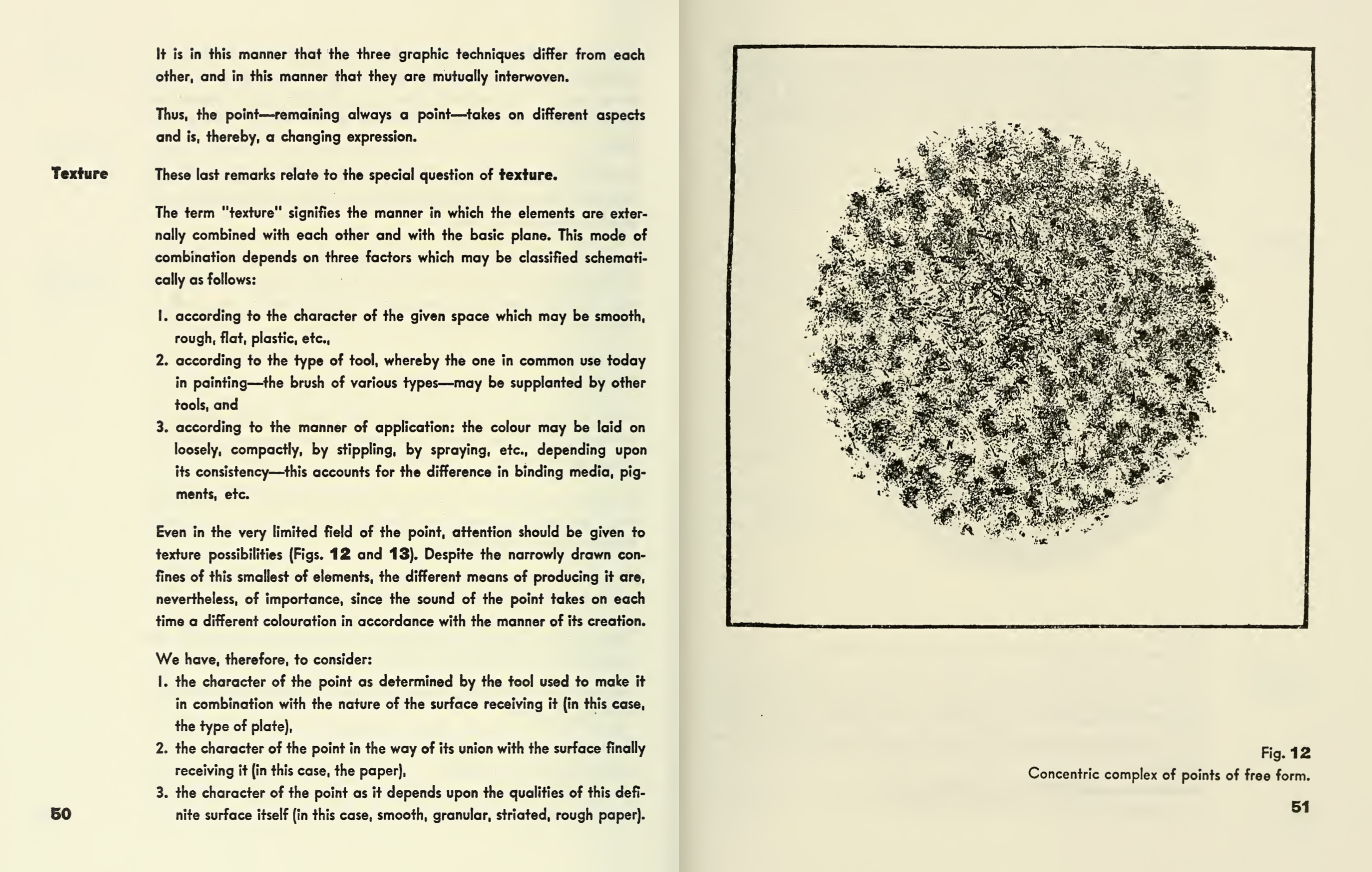 Point and Line to Plane, Kandinsky, pg. 50-1
Some points of departure
Animate the process. With _.redraw() and _.wait()
Modify the 'decoration' (littleLines)
Splotch along a line (perhaps towards pg. 105)