Into the Forest
(2011 DOWNIE ESHKAR KAISER)
Into the Forest is an interactive 3D installation that evokes the play and the daydreams of children exploring an ever-changing forest. Commissioned by the Museum of the Moving Image, it opens there on January 15, 2011.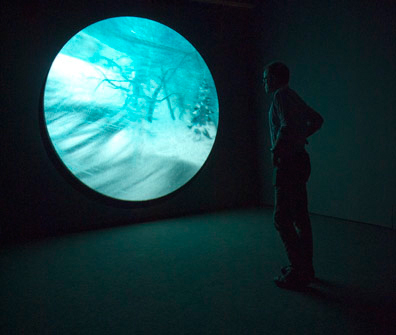 Into the Forest projects painterly imagery that seems to hover off the screen in stereoscopic 3D so that the viewer feels almost inside the imaginary virtual world. Indeed, from time to time, a spotlight comes on in the gallery, and anyone stepping inside it becomes a figure placed in that 3D world and intermingling with the virtual children there. The experience is akin to plunging back into the daydreams of childhood, which can be glimpsed again but never quite recaptured.
. . . . . . . . . . . . . . . . . . . . . . . . . . . . . . . .  

CREDITS
Music composed and performed by Tom Chiu (violin). Voices: 1B first graders at The School at Columbia University under the supervision of Sheila O'Shea. Sound design by Terry Pender. Motions performed by Emily Martinez and Shelley Eshkar. Motion capture by Perspective Studios.
Commissioned by the Museum of the Moving Image.
Into the Forest extends the earlier work Forest, which received support from Dancing in the Streets, the Greenwall Foundation, the New York Foundation for the Arts, and the Rockefeller Foundation.